10. Jun 2021
Bioeconomy ahoi! Boarding the MS Wissenschaft
Last Sunday, our team has visited the Bioeconomy exhibit organised by the German Federal Ministry of Education and Research (BMBF) on board of the MS Wissenschaft (MS Science). Here are our impressions!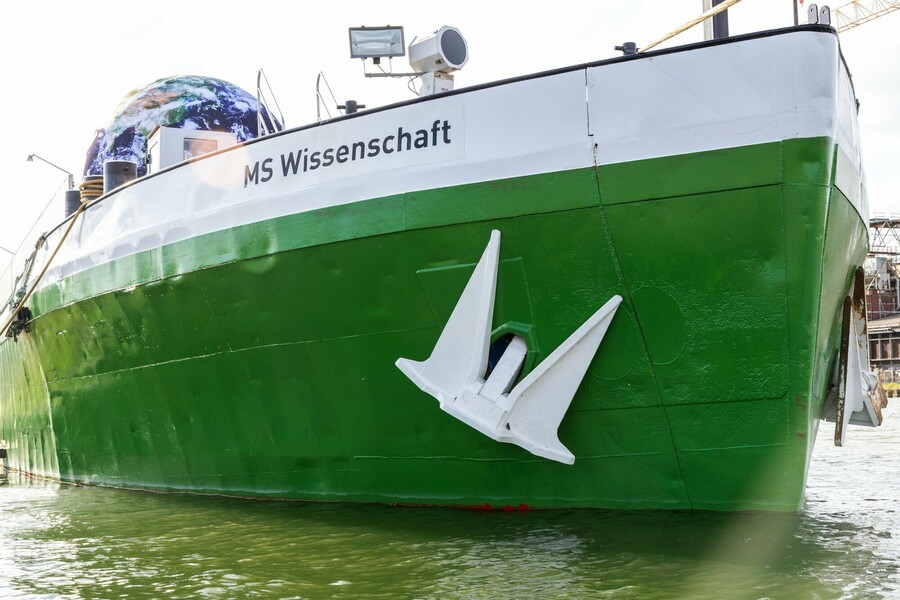 The MS Wissenschaft. Source: Heiner Witte/Wissenschaft im Dialog
The MS Wissenschaft is touring Germany and Austria, welcoming anyone interested in learning about the Science Year's topic, which in 2020/2021 is Bioeconomy. Tour dates and links to booking the tickets are available here. Tickets can be booked online free of charge 5 days before the arrival of the ship on the exhibit location.
The MS Wissenschaft moored at Hamburg's HafenCity: what a view!
The MS Wissenschaft was moored at the Kaiserkai in Hamburg from 5th until the 8th of June. We of course went there to experience live the content of the exhibit, which you can also access entirely online - both in German and in English.
Solar panels provide electricity for the exhibition.
Inside the MS Wissenschaft. Entrance is conditional on booking tickets, and there are measures to keep social distancing. You can access the relevant information here.
This is a great opportunity for the general public to learn more about the alternatives to fossil resources and the choices we all have available to us in our daily lives: be it when we choose construction materials to build our homes, which kind of shoes to buy and which washing agents to use to do the laundry. Anyone can see and even touch the new materials which can make the Earth more climate-neutral and sustainable.
In this context, the exhibit features many examples of bio-based plastics and explains how they are produced. Visitors can see the sugar produced from sugar beets, the beet pulp (which is a byproduct of processing the sugar beet), the polylactic acid (PLA, which is in liquid form). After undergoing chemical processes, the PLA acquires a granular form and can then be processes into PLA filaments which can feed a 3D printer reproducing a module of the very ship you find yourself in!
Steps for producing PLA (described above).
The 3D printer operates live!
The Bioeconomy adventure goes on: MS Wissenschaft is sailing around with the Bioeconomy exhibition until October 2021. We couldn't leave without writing down our biggest wish on the Tree of Ideas: more bio-based plastics!
The Tree of Ideas
For more information, go to: