05. Nov 2020
Recap: Hamburg Sustainability Session #2 - Towards a Circular Economy
Dr. André Wolf, of BIO-PLASTICS EUROPE partner HWWI, held a Keynote speech titled "Bioplastics in food packaging: potentials and challenges from an environmental point of view".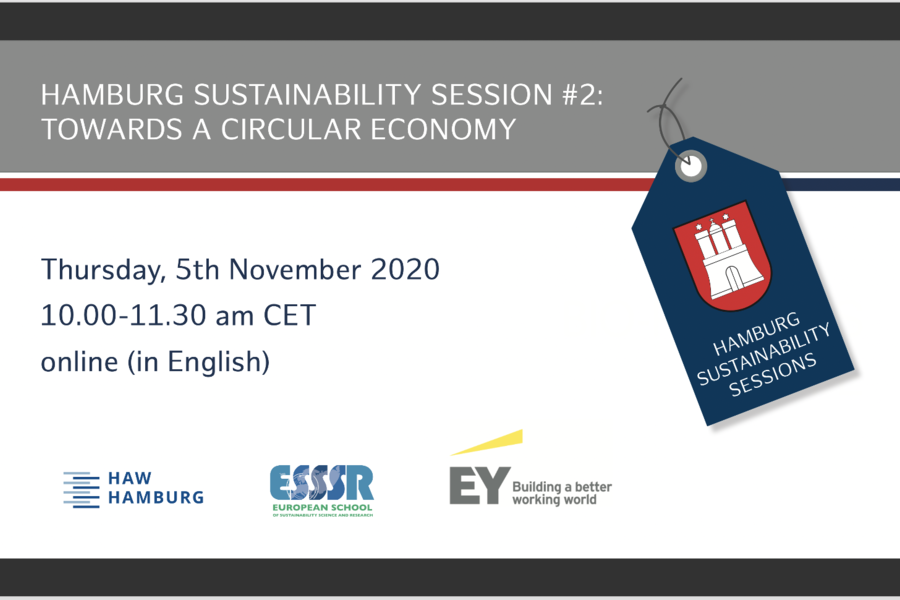 The virtual event 'Hamburg Sustainability Session #2:Towards a Circular Economy', co-organized by HAW Hamburg ( through the European School of Sustainability Science and Research (ESSSR), the Horizon2020 project BIO-PLASTICS EUROPE and the INTERREG BSR Project LARS ) and EY drew to a successful conclusion on the 5th of November 5th, with active participation from more than 100 attendees.
During the event, three keynote speakers provided perspectives on the progress of the Circular Economy from their perspectives in European policymaking, academia and industry.
Paulo da Silva Lemos, European Commission Policy Officer, DG Environment EU Environment, gave a presentation titled: "The Green Deal as lever towards a Circular Economy – the case of the digital product passport initiative". He explained how an electronic product passport can provide information on a product's origin, composition, repair and dismantling possibilities and end of life handling. With this, both consumers and other actors from the industry have information about the sustainability and circularity of different products and components and can thus more easily engage in value-retaining operations (such as reuse, recovery, recycling etc.).
Mr. da Silva Lemos also touched on the subject of plastics. He highlighted that plastics and packaging are among the key product value chains in the Circular Economy Action Plan 2020, which promotes waste prevention and circularity. One of the goals of the Action Plan is creating an EU market for secondary raw materials.
Dr. André Wolf of BPE partner institution Hamburg Institute of International Economics (HWWI) spoke about: "Bioplastics in food packaging: potentials and challenges from an environmental point of view". The three main challenges in the bioplastics supply chain were identified as: the need to overcome dependency on food plants for feedstock production, improving the energy balance of polymer processing in bio-refineries and creating sustainable waste management frameworks. Dr. Wolf and his colleagues at HWWI are working on performing life cycle analyses for products and supply chains developed in BPE, considering potential environmental impacts, cost performance and future demand potential. With this, they seek to create sustainable strategies for the production of bio-based plastics.
The third and last speaker, Per Møller, of Kalundborg Symbiosis (Denmark), gave his keynote on the topic: "A smart green transition through Urban Industrial Symbiosis". He related the history dating back to 1961 of Kalundborg Symbiosis, a local partnership between 11 companies. They undertake a circular approach to production: residues from one company become a resource to another, saving on costs and minimizing waste. Their idea of full resource utilization is coupled with the ambition to accelerate the green transition in the industry. Mr. Møller highlighted that, for partnerships of this kind to succeed, it is necessary above all to promote the symbiosis mindset.
The event came to a wrap with a lively discussion, in which attendees posed questions and raised comments.