21. Jan 2021
Meet our partners: UPM
The BIO-PLASTICS Partner Introduction series continues in 2021. Today, we are delighted to introduce Universidad Politécnica de Madrid (UPM), a public university located in Madrid, Spain.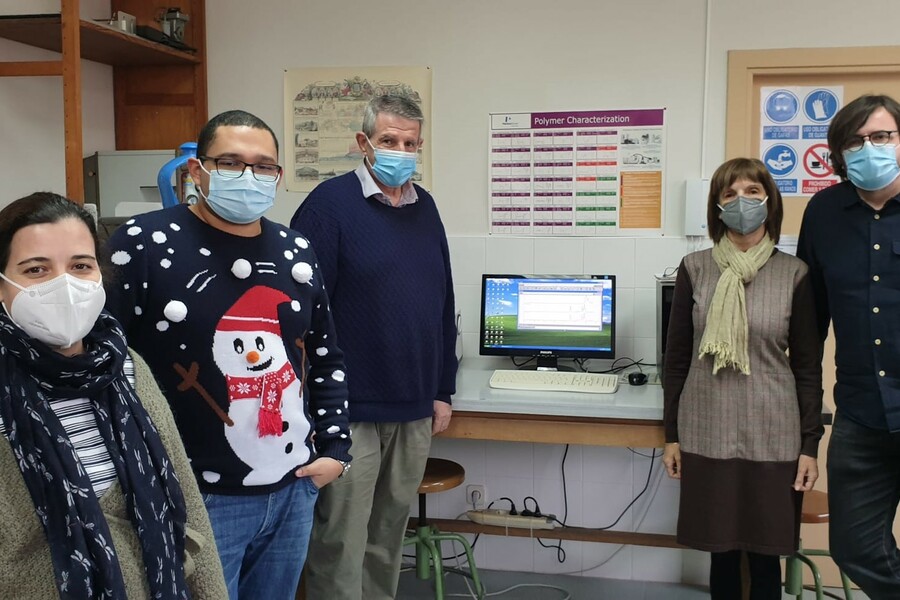 Pictured: Dr. Arrieta, Dr. Beltrán, Prof. Urreaga, Prof. Hernández and Dr. García on their 2020 team Christmas celebration.
UPM is mainly focused on engineering and technical careers and is formed by 17 Schools and 11 Research Institutes and Centers. It is actively working to integrate the Sustainable Development Goals in both teaching and research activities.
Within the scope of our project, UPM is mainly focused on the development of multilayer packaging solutions using bio-based and/or biodegradable polymers, and in testing the mechanical recyclability of the materials developed by our partners (Work Package 3: Identification and tests of innovative product design). This work has already resulted in three scientific papers published in international journals. The UPM team also collaborates in the analysis of current plastics waste collection and recycling systems, with the overall goal of improving their efficiency (Work Package 4: Plastic waste collection, recycling, and littering).
BIO-PLASTICS EUROPE's UPM team is formed by Prof. Joaquín Martínez Urreaga, Full Professor at UPM, who has several years of experience in the research of mechanical recycling of plastics and bioplastics; Prof. María Ulagares de la Orden, Full Professor at Universidad Complutense de Madrid; Dr. Jorge Ramírez García, Associate Professor at UPM; Dr. Marina P. Arrieta, Assistant Professor at UPM; and Dr. Freddys R. Beltrán, post-doctoral researcher at UPM.